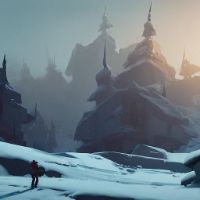 Snowland Name Generator
Welcome to the Snowland Name Generator! Use this idea generator to generate thousands of possibilities for snowland names. Have fun!
Enjoy your green, no ads and privacy-first visit! Learn more
10 tips for coming up with snowland names
Brainstorm names related to snow, such as Frost, Blizzard, Snowfall, Cryo, etc.
Brainstorm names related to winter, such as Chill, Cold, Sleet, or Hoarfrost.
Combine words to create unique names like Crystalstorm, Frostvale, and Snowpeak.
Choose words that have a chill or cool vibe, like Glazier, Serene, and Permafrost.
Mix and match words to create hybrids like Snochill, Snowdome, and Coldvale.
Look to history for inspiration, like naming your Snowland after Empress Winter of Russia.
Pick words that evoke feelings of wonder and awe, like Diamond Mountain, Iceridge, and Chilltopia.
Think up puns to use as names, such as Snowvenus, Snowtopia, and Frostyville.
Browse a dictionary for words related to snow and winter, and combine several to form new names.
Look to popular culture for ideas, such as naming your Snowland after a character or scene in a movie or book.
Snowland Names
In the Arctic, there are many different snowland names. The Snaeland, the Floki Vilgerdarson, the Snland, and the Island, are just a few of the names you can think of.
Why should you use a Snowland Name Generator?
Using a Snowland Name Generator can be a great way to get creative with naming your next snow-themed project. It can provide you with a wide variety of potential names that are creative and unique. Plus, since the generator is automated, it can help you quickly come up with interesting, unique names that you may not have thought of on your own.
So many ideas, but can I use the snowland names for free?
All random snowland names created with this tool are 100% free to use without any need to provide credit (although we do appreciate the occasional shoutout). Be a little careful though, as there is always a small chance that an idea already belongs to someone else.
Is there a limit to how much I can generate with this random Snowland Name Generator?
There's thousands of snowland names in this Snowland Name Generator, so you won't need to be worried that we'll run out anytime soon. Just have fun with it.
For even more ideas and some additional options, be sure to also check out the Snowland Name Generator over on The Story Shack.
Explore some snowland names
Ivory Plains
Emlan Expanse
Clerstino Ice Fields
Parnach Expanse
Porthead Snow Plains
Cartmeuse Ice Fields
Southville Icelands
Gravelmiota Icelands
Grorood Snow Plains
Milky Expanse

No ads, green and privacy-first
This site serves no ads, runs on renewable energy and fully respects your privacy. The only way it earns is by accepting donations.
Will you support with a small donation?
Supporters enjoy instant benefits
You will also receive access to an enhanced experience over on my other site thestoryshack.com that includes a no-ad approach, unlimited access to all its current tools and DRM-free artwork.
Thank you!
- Martin