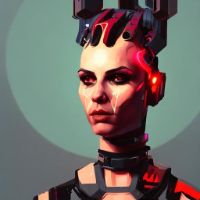 Futuristic Name Generator
Welcome to the Futuristic Name Generator! Use this idea generator to generate thousands of possibilities for futuristic names. Have fun!
Enjoy your green, no ads and privacy-first visit! Learn more
10 tips for coming up with futuristic names
Combine futuristic words together (e.g. 'Hypertech').
Think outside of the box and use made-up words that sound futuristic.
Look to modern technology for inspiration (e.g. drones, robots).
Look to other sci-fi works for inspiration.
Look to classic science fiction for inspiration.
Make use of neologisms (e.g. 'posthuman').
Take inspiration from mythological creatures or concepts.
Use Latin, Ancient Greek or other language roots.
Try to avoid clichés (e.g. 'cyber').
Create words using a phonetic alphabet.
How is the word future defined?
The word "future" can be defined in a number of ways. Generally speaking, it refers to something that is yet to happen. In some cases, the future can also refer to a hypothetical situation or event. As technology continues to evolve, so too does our understanding of the future. Future technologies could completely change the way we live and work, and it's important for us to understand how these new technologies are defined.
Why should you use a Futuristic Name Generator?
A Futuristic Name Generator can be a great tool for helping to find unique, creative and captivating names. It can open up a world of possibilities when it comes to finding a name to represent you, your business or organization. It can help you come up with name ideas that stand out from the ordinary and that reflect your core values, mission and vision.
So many ideas, but can I use the futuristic names for free?
All random futuristic names created with this tool are 100% free to use without any need to provide credit (although we do appreciate the occasional shoutout). Be a little careful though, as there is always a small chance that an idea already belongs to someone else.
Is there a limit to how much I can generate with this random Futuristic Name Generator?
There's thousands of futuristic names in this Futuristic Name Generator, so you won't need to be worried that we'll run out anytime soon. Just have fun with it.
For even more ideas and some additional options, be sure to also check out the Futuristic Name Generator over on The Story Shack.
Explore some futuristic names
Cayen
Arnav
Justan
Curtix
Draex
Yve
Julith
Dayana
Carline
Saavi

No ads, green and privacy-first
This site serves no ads, runs on renewable energy and fully respects your privacy. The only way it earns is by accepting donations.
Will you support with a small donation?
Supporters enjoy instant benefits
You will also receive access to an enhanced experience over on my other site thestoryshack.com that includes a no-ad approach, unlimited access to all its current tools and DRM-free artwork.
Thank you!
- Martin