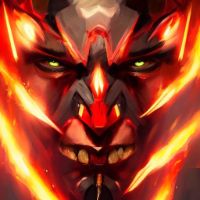 Demon Name Generator
Welcome to the Demon Name Generator! Use this idea generator to generate thousands of possibilities for demon names. Have fun!
Enjoy your green, no ads and privacy-first visit! Learn more
10 tips for coming up with demon names
Find a mythological origin for your demon and research its traits & characteristics
Draw from horror movie demons and their appearances
Invent a unique creature and use a combination of language to name it
Look for some inspirations in popular culture such as books, video games, anime, or TV shows
Brainstorm combinations which sound dark, powerful and threatening
Pick a dark meaningful word and combine it with another name element
Look to Latin, Greek, and Hebrew - they offer great options for finding rare and powerful names
Mix up letters to come up with something new and creative
Use Greek & Roman gods, goddesses, monsters, and legendary heroes as inspiration
Create a name with the same letter combination several times
Demon Names
Many people are interested in demon names, as they have a wide range of meanings. Some people even have a desire to find out about these demons' origins and what makes them so powerful. This article will help you to learn more about these mythical creatures.
Why should you use a Demon Name Generator?
Using a Demon Name Generator can be a great way to explore the dark, fantasy side of yourself and your writing. It can help you to find inspiration and come up with creative and unique names that perfectly reflect the characters or demons you're creating. Plus, it can be a lot of fun!
So many ideas, but can I use the demon names for free?
All random demon names created with this tool are 100% free to use without any need to provide credit (although we do appreciate the occasional shoutout). Be a little careful though, as there is always a small chance that an idea already belongs to someone else.
Is there a limit to how much I can generate with this random Demon Name Generator?
There's thousands of demon names in this Demon Name Generator, so you won't need to be worried that we'll run out anytime soon. Just have fun with it.
For even more ideas and some additional options, be sure to also check out the Demon Name Generator over on The Story Shack.
Explore some demon names
Gagmamoz
Rug'draman
Aglelith
Ugror
Trorzath
Thornador
Aronath
Giggekin
Almanath
Joz'gin

No ads, green and privacy-first
This site serves no ads, runs on renewable energy and fully respects your privacy. The only way it earns is by accepting donations.
Will you support with a small donation?
Supporters enjoy instant benefits
You will also receive access to an enhanced experience over on my other site thestoryshack.com that includes a no-ad approach, unlimited access to all its current tools and DRM-free artwork.
Thank you!
- Martin