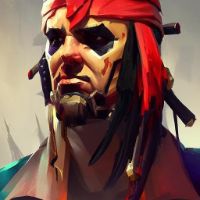 Pirate Name Generator
Welcome to the Pirate Name Generator! Use this idea generator to generate thousands of possibilities for pirate names. Have fun!
Enjoy your green, no ads and privacy-first visit! Learn more
10 tips for coming up with pirate names
Combine your own name with the word "pirate".
Choose a "pirate-ish" sounding last name.
Choose a descriptive first or last name such as "One-Eyed Jack".
Incorporate locations or features of the sea such as "Fairwind".
Incorporate weapons, tools or objects of seafaring such as "Cutlass Jim".
Choose a name based off of a nautical pun, such as "Flynn Tide".
Look to mythology for inspiration, such as for the name "Achilles Reef".
Look to classic literature for inspiration, such as for the name "Long John Silver".
Look to your favorite movie or book characters, such as "Blackbeard".
Incorporate key words related to piracy such as "Captain" or "Hook".
The History of Pirate Names
A number of pirate names have made their mark on history, such as the famous pirate captains Calico Jack and Grace O'Malley, and the infamous swashbucklers Anne Bonny and Jean Charpin. These names, as well as other legendary pirates of the Caribbean and Atlantic, have inspired songs and films over the years. So, how did they come to be?
Why should you use a Pirate Name Generator?
Using a Pirate Name Generator is a fun and creative way to come up with a unique name. It can inspire you to pick something that's fun and different, which can be a great and memorable way to introduce yourself to your friends, family, and colleagues. Plus, it's an ideal icebreaker for conversations and a great way to lighten the mood in any situation! So overall, it's an easy and fun way to give yourself a memorable alias.
So many ideas, but can I use the pirate names for free?
All random pirate names created with this tool are 100% free to use without any need to provide credit (although we do appreciate the occasional shoutout). Be a little careful though, as there is always a small chance that an idea already belongs to someone else.
Is there a limit to how much I can generate with this random Pirate Name Generator?
There's thousands of pirate names in this Pirate Name Generator, so you won't need to be worried that we'll run out anytime soon. Just have fun with it.
For even more ideas and some additional options, be sure to also check out the Pirate Name Generator over on The Story Shack.
Explore some pirate names
Fairbanks Peddle
Risley Thorne
Knoll Omar
Bradley Parch
Wesley Ross
Myrtie Rhys
Walker Brandon
Courtney Lucifer
Radella Kaiser
Barbara Storm

No ads, green and privacy-first
This site serves no ads, runs on renewable energy and fully respects your privacy. The only way it earns is by accepting donations.
Will you support with a small donation?
Supporters enjoy instant benefits
You will also receive access to an enhanced experience over on my other site thestoryshack.com that includes a no-ad approach, unlimited access to all its current tools and DRM-free artwork.
Thank you!
- Martin