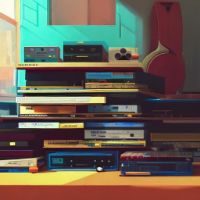 Record Label Name Generator
Welcome to the Record Label Name Generator! Use this idea generator to generate thousands of possibilities for record label names. Have fun!
10 tips for coming up with record label names
Brainstorm different ideas and words.
Combine two memorable words together.
Look up synonyms of words associated with the sound, style, and genre of music.
Envision how the name looks if it were branded.
Research the landscape of other labels.
Consider the length and spelling of your chosen name.
Be sure to conduct a trademark search.
Check if the domain name is available.
Reach out to your network for feedback.
Take a break and come back to re-evaluate.
Record Label Names
Record labels are not just limited to one name, though. There are now dozens of major and indie record labels operating around the world. In addition to the labels themselves, there are also companies that specialize in acquiring and managing them.
Why should you use a Record Label Name Generator?
Using a record label name generator can be a great way to get inspiration when starting a record label. It can provide unique names and phrases, which can help your label stand out from the competition. It can also help spark ideas and create catchy, attention-grabbing names that will help your label's brand and identity. It can also save time and effort from brainstorming numerous names.
So many ideas, but can I use the record label names for free?
All random record label names created with this tool are 100% free to use without any need to provide credit (although we do appreciate the occasional shoutout). Be a little careful though, as there is always a small chance that an idea already belongs to someone else.
Is there a limit to how much I can generate with this random Record Label Name Generator?
There's thousands of record label names in this Record Label Name Generator, so you won't need to be worried that we'll run out anytime soon. Just have fun with it.
For even more ideas and some additional options, be sure to also check out the Record Label Name Generator over on The Story Shack.
Explore some record label names
Omen Records, Inc.
Discovery Records
Double Plat Entertainment Group
Mask Recordings
Animal Records
Alloy Distribution
Blessing Music
Crown Music
Quicksilver Music
Nightingale Records