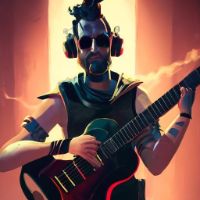 Musician Name Generator
Welcome to the Musician Name Generator! Use this idea generator to generate thousands of possibilities for musician names. Have fun!
10 tips for coming up with musician names
Combine your hobbies with musical elements
Make it memorable and use alliteration
Brainstorm synonyms and metaphors related to music
Look up words associated with different musical genres
Write down any words you like the sound of
Mix two words together
Look at the names of famous musicians and modify them in some way
Look at words in other languages
Include puns and rhymes
Experiment with spelling modifications
Famous Musician Names
The names of some famous musicians have become a part of our daily vocabulary. Here's a look at a few of them.
Why should you use a Musician Name Generator?
A Musician Name Generator can be incredibly helpful for musicians who are struggling to come up with an interesting, unique name for their musical identity. It can provide ideas for names that may not have occurred to them, and if it gives them the perfect name, their career can get off to a great start! Additionally, with a large variety of music genres in the world, having an instrumental and/or descriptive name can be a great way to give your music an edge.
So many ideas, but can I use the musician names for free?
All random musician names created with this tool are 100% free to use without any need to provide credit (although we do appreciate the occasional shoutout). Be a little careful though, as there is always a small chance that an idea already belongs to someone else.
Is there a limit to how much I can generate with this random Musician Name Generator?
There's thousands of musician names in this Musician Name Generator, so you won't need to be worried that we'll run out anytime soon. Just have fun with it.
For even more ideas and some additional options, be sure to also check out the Musician Name Generator over on The Story Shack.
Explore some musician names
Angel Claire
Quill
Sam Spice
Teddie Powers
Robin Craig
Ellen Fields
Stacey Ace
Lester Man
Terry Michaels
Skylar Claire