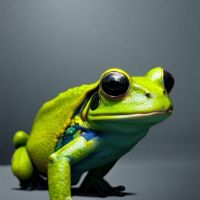 Frog Name Generator
Welcome to the Frog Name Generator! Use this idea generator to generate thousands of possibilities for frog names. Have fun!
10 tips for coming up with frog names
Think of creative made-up words that use the letter "F".
Choose a name that speaks to a physical feature or trait of a frog.
Go for shorter names that are catchy and easy to remember.
Look to nature for inspiration, such as animals, plants, or natural phenomena.
Focus on a unique word or combination of words.
Choose a name that reflects frog behavior and the habitats they inhabit.
Combine two words that convey a personality trait or color.
Use names from pop culture references or movies that relate to frogs.
Draw inspiration from music or books about frogs or amphibians.
Brainstorm with friends or family members to come up with a good frog name.
Popular Frog Names
Frogs can be a beautiful addition to your garden, as long as you choose the right one. There are a few common frog names you can use to ensure that you get the right one. Here are some of the most popular frogs:
Why should you use a Frog Name Generator?
A Frog Name Generator can be a great way to come up with creative or silly names for projects, events, or characters. It can be especially helpful for coming up with original and memorable names that stand out from the crowd and can be used in a variety of contexts.
So many ideas, but can I use the frog names for free?
All random frog names created with this tool are 100% free to use without any need to provide credit (although we do appreciate the occasional shoutout). Be a little careful though, as there is always a small chance that an idea already belongs to someone else.
Is there a limit to how much I can generate with this random Frog Name Generator?
There's thousands of frog names in this Frog Name Generator, so you won't need to be worried that we'll run out anytime soon. Just have fun with it.
For even more ideas and some additional options, be sure to also check out the Frog Name Generator over on The Story Shack.
Explore some frog names
Ethyl
Ribbit
Hoppy
Buster
Lily Paddy
Lily
Speckles
Goliath
Croak
Snoop Froggy Frog